2020 Most Improved Player
ANNE JONE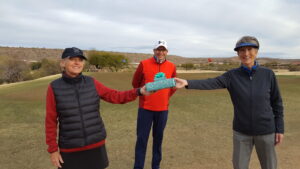 CONGRATULATIONS TO OUR 2020 WINNER…. ANNE JONES with the highest Improvement Factor!
The Most Improved Player Award was presented for the first time 18 years ago in 2002 in honor of Mary Sturgeon Canfield's daughter Nancy…. see history below.
The 2020 Winner of The Most Improved Player, Anne Jone was announced at the Kick Off Zoom meeting on January 26, 2021.  As the winner, Anne will receive an engraved crystal trophy and a personalized Most Improved Player bag tag.  
Most Improved player is based on USGA GHIN Handicap Report beginning January 1st through December 31st. To qualify for the award, a player must have posted a minimum of 48 scores in a calendar year, 12 rounds need to be played on MPWGA Tuesday play days.  
The Mary Canfield Award Trophy is displayed in the Trophy case next to the Mesquite Grill.
Previous Winners of Most Improved Player:

2019 – Midge Mollenkopf

 

2010 – Holly Lyon

2018 – Patti Shobe

 

2009 –  Dorothy Moore

2017 – Mary Kay Nordhill

 

2008 –  Ralene Peters

2016 – Karen Wilson

 

2007 –  Nathalie Wisneski

2015 – Pilar Borm

 

2006 –  Karen Christensen

2014 – Jackie Kline

 

2005 –  Debbie McMullin

2013 – Del Hudson

 

2004 –  Althea Parent

2012 – Betty Cole

 

2003 –  Pat Mattz

2011 – Donna Barnard

 

2002 –  Connie Sherman
History of the Most Improved Player award for the MPWGA: In the words of Mary Sturgeon Canfield, who started the award in honor of her daughter Nancy. 
In 1947, my golf club in Wausau, Wisconsin, gave me an award for "Most Improved Player of the Year."  I was 29 years old, and the award surprised and inspired me.  My love for this wonderful game has never diminished.  It has brought me joy and challenge, has kept me happy and healthy, and has brought me enduring friendships and great love. 
In the year 2000, my daughter Nancy was recognized by her golf club in South Carolina for "most improved golfer of the year."  Nancy was a very accomplished tennis player, but had not played golf since her junior high days.  She started to play again at the age of 55 and within 3 months was breaking 100 and would soon break 90.  Sadly, we lost Nancy about three months after she and I won our flight in an invitational tournament at her club. 
In presenting this trophy in memory of Nancy, it is my hope that it will bring the recipient pride in her accomplishment and challenge her to further improvement.